8100 Narrow Interlock Series Aluminum Sliding Glass Door
WinDoor 8100 Series sliding glass doors minimize metal sightlines when doors overlap in a closed position for a clearer view.
WinDoor 8100 Narrow Interlock Series Sliding Glass Doors
8100 narrow stile width of 2″ vs. 4 5/8 for 8100 series, but please note screens are not available with this option
2-tone color options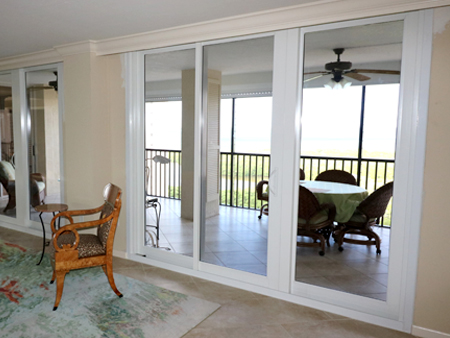 WinDoor sliding glass doors are panels that ride on one or more tracks. They roll smoothly by themselves or with additional panel layouts. Custom panel configurations including pocketing panels, non-pocketing panels, as well as corner doors. WinDoor sliding glass doors offer one of the largest certified panels in the industry with 12′ Tall and are also available in 90 and 135 degree corners with multi-track configurations. Dual lock system and strong durable 3" rollers are standard. Doors are certified non-impact, impact and energy code compliant.